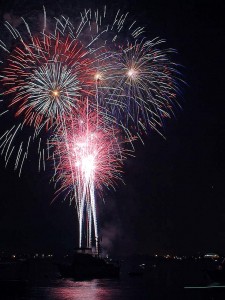 Independence Day is a lot sooner than it seems and now is the time to book a Chicago boat cruise for the holiday.  You can make it the sole plan for the holiday or part of your entire day in Chicago. Whether visiting or a resident, a yacht rental may be one of the best ways to spend the 4th of July. Every year, fireworks are launched over the Navy Pier that you can see just about anywhere. Doing so on a yacht on a beautiful July night sounds like a great party for your friends and family.
Even if you can't get out on the water on 4th of July itself, you can still book for that weekend. Any one of many packages can suit your party. Most cruises last around 3 hours, leaving you with plenty of other time to check out what's going on in and around Chicago during the holiday. The Chicago History Museum has a Independence Day celebration, including a children's costume parade. Or you can catch a free performance by the Grant  Park Orchestra in Millennium Park.
However you spend the rest of your day or weekend, you can definitely fit in the option of yacht rentals.  It's important to reach out for reservations now, before the whole weekend is booked up!