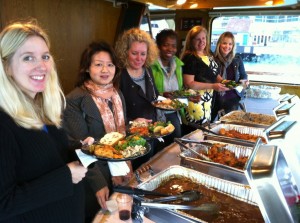 The summer season is a perfect time for a corporate event on a Chicago boat cruise, but just because it is a business event does not mean it has to lack fun. Show each guest a great time with tons of music, food, drinks, and even some activities! Consider incorporating a few of these ideas for a successful event on one of Adventure Sea Tours' yacht rentals:
Comedy Show: A comedian can lighten up the atmosphere with a few good laughs.
Jazz Band: Live music is always a great way to get the event swingin' with the sounds of piano, drums, and sax playing in the background. But feel free to choose whatever type of music you feel is most appropriate for the event.
Pick a Theme: Choose a theme for the event, such as Old Hollywood or Las Vegas (Casino), and add decorations and props that reflect the theme.
Variety Show: Why choose one form of entertainment when a variety show offers it all: dance, comedy, music, and more!
For more assistance planning a Chicago boat cruise corporate party, the event planners and staff members at Adventure Sea Tours are available to help. Learn more by visiting our website and viewing our different packages.