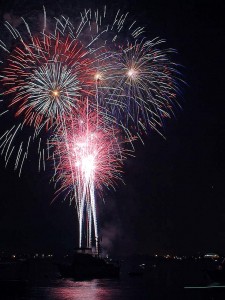 Labor Day weekend is quickly approaching, and there is no better way to show appreciation for employees than a day on a Chicago boat cruise overlooking the city skyline. As the summer winds down at the end of September, Labor Day weekend offers the perfect opportunity to enjoy sunlight and outdoor activities before the closing of the season. The Valara VI yacht was specifically designed for groups of people to mingle and enjoy one another's company, making it a perfect option for entertaining guests. Planning a Chicago boat cruise with Adventure Sea Tours is simple and stress-free! The staff and crew are here to help create the perfect event for that special corporate cruise. A variety of all-inclusive meal and drink packages are available to suit any specific needs.
Guests can also experience Chicago's beautiful fireworks extravaganza! From Memorial Day weekend to Labor Day, fireworks are displayed across the Chicago night sky every Wednesday and Saturday night. Enjoying a fun-filled, social evening with coworkers and finishing it off with a bright fireworks show is sure to impress all those aboard the Valara VI and give all a night of lasting memories.
Visit our website to look at our different options and book today.