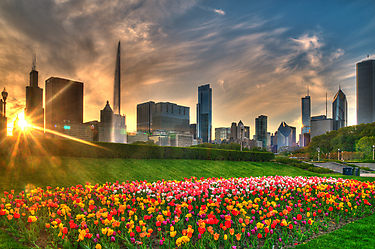 As the winter weather starts to melt into spring, it is a time to start enjoying outdoor activities and the city lifestyle that is available throughout Chicago. The best early spring activities provide the opportunity to enjoy beautiful surroundings, amazing weather and enjoying the company of loved ones.
Visiting the Botanic Garden
The Chicago Botanic Garden is a great place to visit during the early spring months because the garden showcases some of the first blooms and plant-life that is available during the spring. The beautiful grounds are surrounded by plants and the improved weather conditions make it a pleasant place for a stroll with family or a place to learn about local plant-life.
Enjoy a Cruise
Early spring is a great time to enjoy a Chicago boat cruise. We offer a variety of cruise options, which allow you to enjoy unmatched service and a romantic atmosphere. During the early spring, our cruises allow you to enjoy the water and see the city landscape from a beautiful setting. Chicago cruises provide a classy, luxury experience that is perfect for an early spring wedding, anniversary or even just a relaxing evening with friends and family. On a 3 to 5 hour cruise, food and beverages are included for the optimal service and luxury experience.
Visit the Lincoln Park Zoo
The Lincoln Park Zoo is a great place for families, particularly if you have children or grandchildren who are interested in learning about animals.
Spring is a time to enjoy with friends, family and co-workers. The outdoor activities in Chicago make it an exciting time to explore, learn and enjoy. Whether you prefer a luxury experience on a cruise or you want to spend time with the whole family, there is something appropriate for the early spring months.