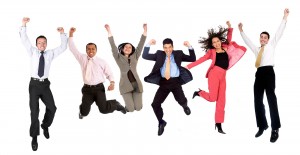 Whether we like to admit it or not, working the same job over and over in the same office can become a bit draining. A break in a routine is a perfect way to boost employee morale and spice things up a bit. The Valara VI specializes in corporate cruises. Considering one may be the best idea you could have for your company, and is sure to leave your employees satisfied and smiling.
A company outing is something extra special to hold. It gives them employees a chance to connect with each other on a level  that may not be reachable within the walls of the workplace.
Another good usage for our corporate cruise options is to entertain a big client you have visiting in town. Showing a client to a good time can really turn an interaction around. Consider Adventure Sea Tours for your Chicago yacht rental needs. We've been in the business a while, and our goal is to ensure our customers have a night they won't ever forget! Gather your people and enjoy a beautiful night out on the water, complete with delicious food and drinks made by our top notch bartender. Visit http://valara.com to learn more.