Today, the Chicago Skyline Private Cruise Yacht VALARA Celebrates the Legacy of a Legend and a valued client, Neil Diamond.
Captain Val, President and Captain Mary Antoniette, Event Coordinator for Adventure Sea Tours, and the Luxury Yacht VALARA have been a little saddened to learn that our favorite star of all time, Neil Diamond was recently diagnosed with Alzheimers disease.   Because of this, his tour schedule had eventually become a bit grueling for him to handle, and via the advice of his doctors,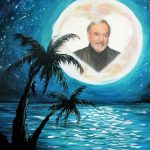 His music will always be in our lives
Neil reluctantly cancelled the rest of his 2018 world tour.  Of course all ticket purchases are being refunded, but we know how much Neil enjoyed pleasing his many fans, we know this is a difficult step for him.  This will also be a huge adjustment for his many crew which include his road manager, a full sound and lighting crew, background singers, security crew, flight crew, and dozens of other folks who toured with him and were employed with him for many many years.
Not only are Neil Diamond's songs all over the VALARA's computerized music playlists for our own clients to enjoy, but he is truly is our favorite!  We have personally enjoyed his concerts for many years.  A fun Story:  We must reminisce on one event we were preparing for; we received a call from a client who wanted to to come aboard our yacht VALARA on the Fourth of July one year.  At the time, we were not even aware that we were talking to Neil's road manager, Michael.  Soon we learned… and soon we seen, with 85 guests in tow, our client was Neil and his entire road crew!    Neil was as nice as can be, he came dressed very casual as the rest of his crew was, they were very friendly happy people, they were here to have a fun night and that they did!!  Neil was very gracious to us and he was "more than happy" to take pictures with the two of us, (shown below) along with concert pictures.  As he boarded our yacht Valara, Neil seemed a bit concerned, in a fun way, he inquired as to "where does this ship sail exactly?"   Once his question was answered he said "oh that is good, so you stay close to shore, I really need all of these people you have on board this ship, and I need them very badly so I must make sure they make it back to shore, we have shows to do!"    Funny indeed!  What a great guy!   
Thanks for reading the above story, and the good news is "yes there is some good news here."  Neil will still be writing his songs, he will continue doing what he loves, therefore, we will still receive more surprises, more lovely music.   But the flights, hotels, constant shows and living out of a suitcase part of his life, well Neil, his crew and all of us will surely miss that part.   Sometimes difficult adjustments must be made, we understand that.    We wish Neil Diamond the very best with many future years of happiness, good health and living a comfortable life.   This thing we call life, it is short, be happy!!  Thank you Neil Diamond for times you have given to us.  Your a living legend with timeless music.  You are a man that we and millions of others will never forget!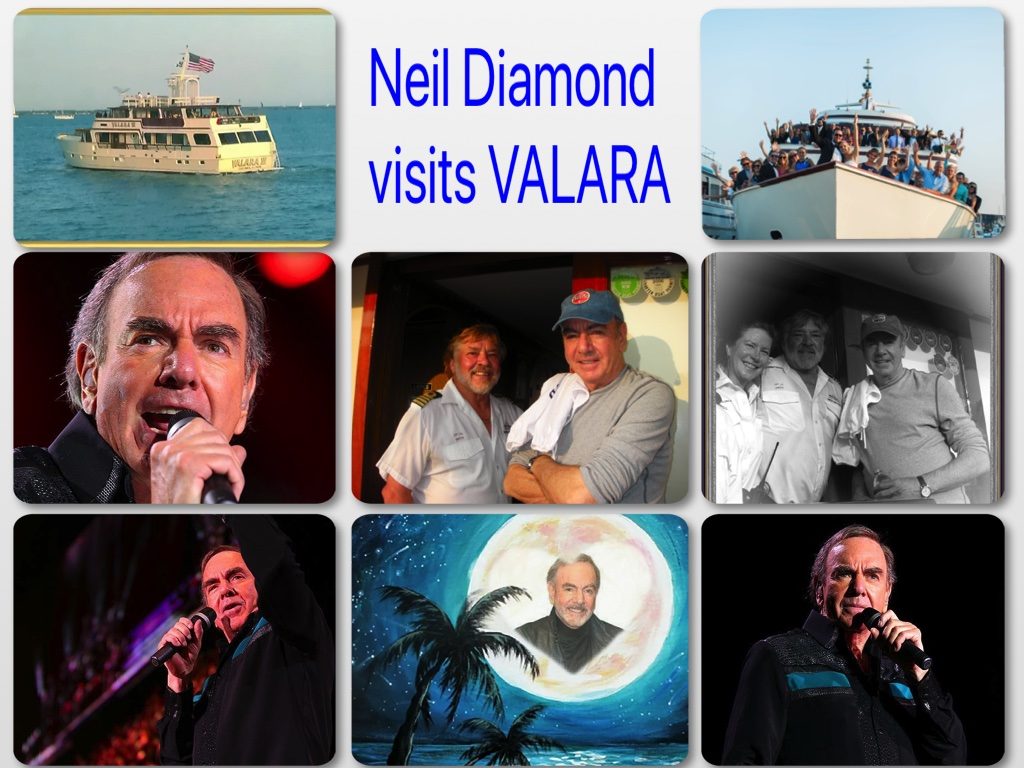 Neil Diamond and road crew visits M\V VALARA in Chicago for a skyline cruise!
{ 0 comments }