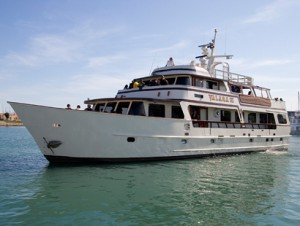 No two events are the same, and it is the small details of planning that can add up to turn a special Chicago boat cruise gathering from great to fantastic. At Adventure Sea Tours yacht rentals the options are endless. Various all-inclusive yacht charter packages are made available to ensure that each option can match the unique specifications of any event.
Other than the necessary food and beverage options, no special occasion is complete without music and entertainment. Whether it's a DJ or a live performance band, the staff at Adventure Sea Tours is here to make sure all requests are met and guests have an experience like none other.
Live bands can add much excitement to a yacht party. For instance, a live jazz band is ideal for a more relaxed ambiance. For a classy and refined feel, a classical music trio or quartet may be the option to choose. Looking for the perfect DJ to play during a wedding cruise? Adventure Sea Tours has compiled a list of "Chicago Wedding Cruise Favorite Vendors" to make the selection process easier and accommodate any need for that special Chicago boat cruise.
Whether you're looking for music, a limousine service, or a minister for your wedding, give us a call to learn about our preferred vendors to make your event wholly unique.
{ 0 comments }