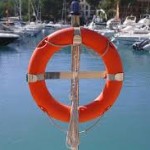 Safety is the first concern when you're considering renting a yacht for a special occasion such as a wedding reception, corporate event or special family gathering. It doesn't matter how fantastic the onboard entertainment is or how elegant the catering if a safety-related issue spoils the event. Valara Cruises, the premier yacht rental provider for luxury events in Chicago wants you to enjoy safe cruising at all times. Before chartering a vessel from anywhere, ask a company representative about how these crucial yachting safety guidelines are followed:
Accident Reporting – Yacht cruising is a generally safe activity but accidents can happen. How a charter company handles an accident is a sign of their overall compliance to safety regulations. According to the U.S. Coast Guard's Boating Safety Resource Center all non-minor accidents, whether they involve people or damage to the vessel, should be reported to the State reporting authority as soon as possible.
Life Jackets – While it's not legally mandated that passengers need to wear life jackets while on board, there should be enough life jackets for all passengers and crew, and they should be stowed in areas that are easy to access.
Vessel Safety Check – Ask how often and by what agency a complete vessel safety check is performed. Frequent checks by an independent certified Vessel Examiner are recommended by the USCG.
A Chicago boat cruise is an unforgettable way to commemorate an important event in your personal life or the life of your company. Having confidence that all safety regulations are being met allows you to relax and fully experience the moment. After all, occasions like your daugher's wedding reception or your own silver anniversary only come around once in a lifetime.
{ 0 comments }